COMMUNITY DAYS
SHOW 'N SHINE CAR SHOW
Saturday, July 8th, 2023
Main Street in Downtown Goldendale, WA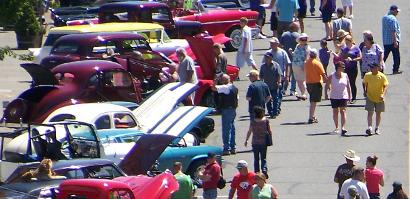 Show 'n Shine Car Show
Schedule
8:00 a.m. - Early registration available
9:00 a.m. - Vehicle registration begins, Silent auction begins, Hot Wheels contest sign up and practice
9:30 a.m. - Vehicle entries may leave to join Community Days parade and may return to the show afterwards
10:00 a.m. - Drag tree reaction time contest begins
1:00 p.m. - Voting ballots for vehicles must be turned in
1:30 p.m. - Hot Wheels Drag Racing contest eliminations begin
2:30 p.m. - Silent auction ends, winning bidders announced
3:00 p.m. - Awards ceremony begins
Preregistration not required but it does speed up the process for you on show day.
CRUISE IN AND POKER RUN
FRIDAY, July 7th
Starting at 6 PM we will be having a Cruise In at the Goldendale Les Schwab Tire Center on Broadway in Goldendale. At 6:30 we will begin our poker run thru the Goldendale area countryside. High hand and low hand will each win a $50 gas card. Other details to be announced.
CAR SHOW
SATURDAY, July 8th
The Show 'n Shine is an Open Car Show for all makes, models, and years of cars and trucks: Show hours are 8 a.m. to 4 p.m. Entry fee is only $10. Starting last year we added a UTV/ATV class for those that want to show off their side by side or quad/three wheeler. As in all our shows, motorcycles are also invited.
Dash plaques and goodie bags

Lots of raffle prizes




Drag tree reaction time contest- $50 prize



Hot Wheels racing contest – Prizes in three age groups. See Hot Wheels Rules and learn more about the Hot Wheels Race.

Antique tractor class
Silent auction

Vehicle entries may join the Community Days parade and re-enter the show afterwards