CONCOURS de MARYHILL
Saturday, October 6th, 2018
at Maryhill Museum of Art
35 Maryhill Museum Dr, Goldendale, WA 98620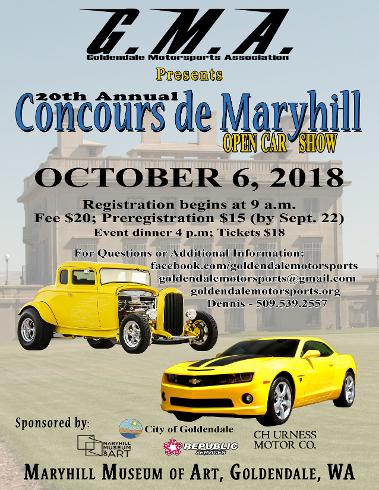 Concours de Maryhill Events
Saturday, Oct. 6
Open Car show. All makes, models and years are welcome. 9:00 a.m. to 4 p.m.
Silent auction. Items include local wines, motor oil, winery tour, and more.
Trophies

Dash Plaques

Raffle prizes. Grand prize is a flat screen SmartTV.
Vintage race car display noon to 2 p.m. by Maryhill Loops Vintage Hillclimb Association

Drive up the historic Maryhill Loops Road from noon to 2 p.m. (open to the public).

Food
Breakfast vendors:

Taqueria Veracruz

Big River Barbecue

Lunch vendors:

Big River Barbecue

Taqueria Veracruz

Bob's Texas T-

bone

Catered BBQ dinner (following awards ceremony):

Bob's Texas T-Bone. Ticket price: $18. Tickets can be purchased the day of the show. Click below to view and print the event dinner menu.
Concours de Maryhill
Car Show Registration Details
This is an Open Car Show, so all makes, models, and years are welcome.

One day show on Saturday, Oct. 6, 2018

Show runs from 9:00 a.m. to 4:00 p.m.

$20 entry fee

per car.

Preregister by Sept. 22nd for only $15 per car.

One dash plaque per entry.
Receive 2 free Maryhill Museum passes per vehicle entry.
Register at 9:00 a.m. on the day of the show, or mail completed registration with your payment to:
GMA
PO Box 481
Goldendale, WA 98620
Car Show Schedule
9:00 a.m. - Vehicle registration begins; Silent auction begins; Raffle ticket sales begin. Prizes raffled throughout the day. Grand Prize: Flat Screen Smart TV
12:00 p.m. - Maryhill Loops Vintage Hillclimb Association (MLVHA) racers arrive; Open Show ballots due at Registration table
12:00 p.m.-2:00 p.m. - Maryhill Loops Road open to drive. Save your spot and return after the drive
1:30 p.m. – MLVHA Race Car voting ballots due at Registration table
2:30 p.m. - Silent Auction ends
3:00 p.m. - Raffle Grand Prize TV
3:30 p.m. - Awards Ceremony
4:00 p.m. - Event Dinner – Get tickets at the Registration tent during the show. Ticket price: $18